Abydos
Abydos was the name which the Greeks gave to the ancient city of Thinis, cradle of the oldest dynasties and a holy city dedicated to the cult of Osiris. Abydos is situated on the west bank of the Nile, 12km south-west of Al-Ballyana. It is famous for it's cemeteries and tombs discovered in 1895 AD, attributed to the kings of the first two dynasties. According to the legend, the god Seth killed his brother Osiris, chopped up his body into pieces and scattered them all over the various provinces in Egypt.

Temple of Seti I
This temple was dedicated to seven gods and goddesses: Isis, Osiris, Horus, Amun-Ra, Ra-Harakhty, Ptah and Seti I himself. The Osireion behind the temple is just a symbolic tomb, a so called cenotaph, since Seti I was buried in his famous tomb in the valley of the Kings at Luxor. The renowned Tablet of Abydos contains the names of Egypt's kings, from Menes to Seti I.

His head was buried in Abydos. The goddess Isis, his wife, collected all the pieces and placed them in the Osireion at Abydos. Isis, by the force of her love, brought her spouse back to life. Of the ancient city, where all religious Egyptians longed to have a funerary chapel remained today some important archaeological sites, the most important of them is the Temple of Seti I.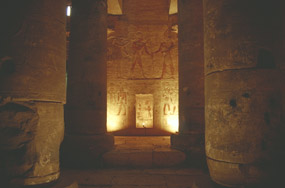 Temple of Ramses II
This temple contains among other inscriptions, a full record of the renowned Battle of Kadish.