Mersa Alam
The former fishing village of Mersa Alam is rapidly increasing in popularity, especially among divers and fishing enthusiasts. Its coral reefs are spectacular for snorkelling and its islands, part of the Gebel Elba Protectorate, are one of the highlights of the area. Two other local outstanding attractions are:
It is believed that Egypt's Pharaohs began mining emeralds in the mountainous area in the Eastern Desert southwest of Mersa Alam. Later identified as the Cleopatra mines or Mons Smaragdus (Emerald Mountains), the area became the most famous mining complex throughout the ancient world. The mines at Wadi Gimal, Wadi Sikeit, Wadi,Nuqrus and Gebel Zabara were energetically exploited during the Ptolemaic and Roman periods.

The Gebel Elba National Park
This park encompasses a variety of ecosystems: mangroves, islands,coral reefs, sand dunes, desert plains and a cluster of mountains and together these unique habitats support a remarkable diversity of flora and fauna found nowhere else in Egypt.
The emerald is the oldest known gemstone. Uniquely green in colour and widely used in jewellery, emeralds were prized and cherished as symbols of eternity and power uring antiquity.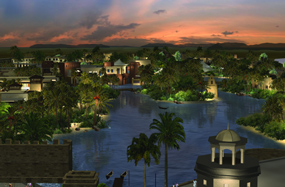 They were also worked during later centuries until left deserted after the Spaniards discovered emeralds in Columbia in 1545. Today, the ruins of the Zabara and Sikeit mining settlements are still evident, as are the remains of temple structures and some old caved-in mine sites.

Port Ghalib
A new tourist development near Marsa Alam International Airport, Port Ghalib is to feature a golf course and a wide range of bars, Restaurants, shops, hotels and an international marina.